CPA Affiliate Marketing Tips and Tricks: Short Question + Best Practices + Benefits
Using affiliate marketing, you can get earn commission for referring Produces or Services to your friends or readers. KEEP IN MIND YOU ARE PUBLISHER, so Create a relevant landing page or blog.
To make it easier to understand, following are the easy and useful tricks about the affiliate marketing. Find Short Question to answer about affiliate marketing.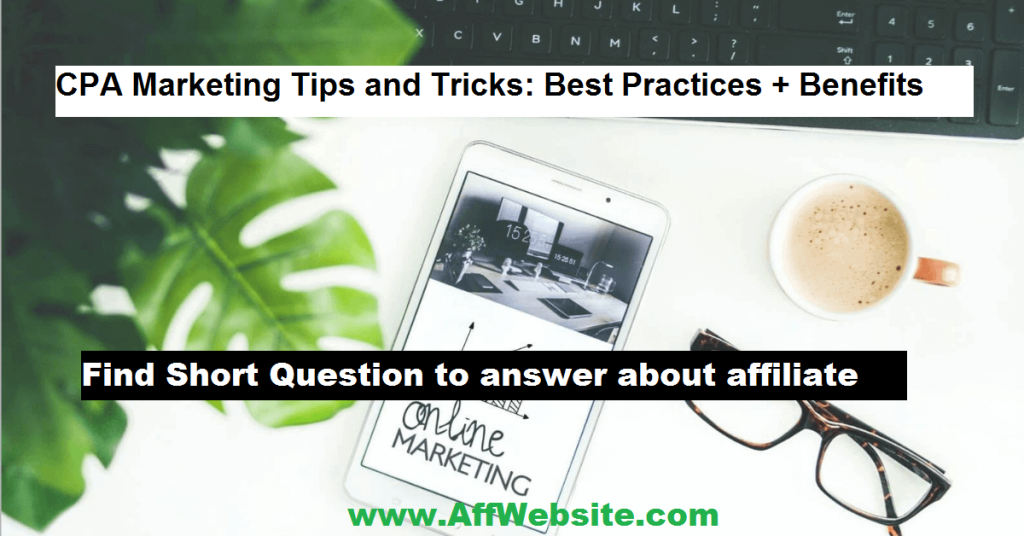 What is An Affiliate?
In affiliate, a person Promotes The Products/Services in exchange for a percentage of every sale. The affiliate's main responsibility is to market the product/service to additional customers.
What is An Affiliate Forum?
A forum is a large Affiliate Marketing Place where you can find valuable and useful information to get some help an learn about Affiliate Conferences to find business partners who share some of your interests.
What is Cost Per Action Marketing?
Cost per action (CPA) is an online advertising marketing plan that allows an advertiser to pay for a specified action, like Signing Up for a Newsletter, Subscribing, Filling Survey Form or Software downloading etc.
What is Affiliate Offers?
In affiliate marketing, offers is the second name of Category and Verticals. A Publishers (Contents Publisher) have to chose best higher paying offers based on niche to get traffic on its offer.
What is The Affiliate Network?
Affiliate network and publisher network is same. In affiliate marketing, a product or service is promoted by being shared on a blog, social networking site, podcast, webinar, Vlog or website to earns a small commission whenever someone makes a purchase or fill the form by personal information, through the unique affiliate link.
What is Affiliate Program?
Affiliate program is an agreement in which an Advertiser pay to another Publisher (Affiliate Person) to promote their Products/Service to get commission for each Sale/Service.
Difference between Advertiser and Publisher?
Advertiser is on the demand Traffic while the Publishers is on the supply Traffic. Advertiser Pay commission to publisher to promote (Get Traffic/Visitors) his product/service.
How to learn about types of Advertising?
Below can be few Types of Advertising method you can adopt it to promote affiliate offers.
Social Media Advertising (SMM)
Paid Search Advertising (PPC)
Search Engine Optimization (SEO)
E-Mail Advertising.
Broadcast Advertising (Vlog)
Mobile Advertising.
Print Advertising.

What is Advertise Network?
Advertising network or Ad Website servers an agreement in which both advertisers (those who buy traffic) and publishers (those who sell traffic) make business each other.
How does Affiliate Tracking system work?
A tracking solution is monitoring records the page views, clicks, user Ip, user browser id, user pc name and conversion information that affiliates send to traffic to affiliate url (link).
Who is AM (Affiliate manger) and its role?
An affiliate manager (AM) is CEO/Founder/Manger of Affiliate network who manages the affiliate publishers on behalf of an advertiser.
How many Ads format used in Affiliation Marketing?
Following ad format is here: Banner Ads, Email Ads, Push Ads, Popunder Ads, Popup Ads , In-Page Push Ads, Native Ads, Video Ads, On click Calendars Ads, Stream Ads, In-stream Ads, Out stream Ads, Interstitial Ads etc.
What is CPA?
CPA stands for, cost per acquisition or cost per action, Company pays if someone only Fill form or Submit with personal email, Publisher (Affiliate) earn money when submit only personal details.
What is CPL?
CPL (Cost-Per-Lead) is a model in which the advertiser is charged a set amount for each lead that is produced.
What is Direct Linking?
Direct linking is a way that allows affiliates to link straight to a landing page without changes in the URL.
What is Revshare?
Revshare/ Revenue Sharing/ Percentage Commission is a model in which Advertisers to share a predetermined percentage of the cost of a product or service.
What is RTB?
RTB (Real-Time Bidding) is the primary technology of ad campaigns in which an advertiser can purchase ad space to put their ads.
What is CPM?
CPM (Cost Per Mile or Cost Per Thousand) is a marketing strategy used to describe the cost of 1,000 ad impressions on a single web page. For Example, If a website publisher charges 2$ CPM, an advertiser will have to pay 2$ for each 1,000 impressions.
DON'T GIVE THEM FAKE LEADS AND FAKE TRAFFIC CAN CAUSE YOUR ACCOUNT SUSPENSION. BEST OF LUCK!