How Can I start Affiliate Marketing? (Beginners Guide)
Using affiliate marketing, you can get earn commission for referring Produces or Services to your friends or readers. It is one of the most in-depth article I have attempt on how to start affiliate marketing-Step by Step.
To make it easier to understand, following are the seven steps in the affiliate marketing process:
Learn about CPA an affiliate marketing
Before telling you how to chose your niche/vertical/category, you have to know about some useful information about CPA Affiliate Marketing.
What is Affiliate?
In affiliate, a person Promotes The Products/Services in exchange for a percentage of every sale. The affiliate's main responsibility is to market the product/service to additional customers.
What is Cost Per Action Marketing?
Cost per action (CPA) is an online advertising marketing plan that allows an advertiser to pay for a specified action, like Signing Up for a Newsletter, Subscribing, Filling Survey Form or Software downloading etc.
What is Affiliate Program?
Affiliate program is an agreement in which an Advertiser pay to another Publisher (Affiliate Person) to promote their Products/Service to get commission for each Sale/Service.
What is Affiliate Offers?
In affiliate marketing, offers is the second name of Category and Verticals. A Publishers (Contents Publisher) have to chose best higher paying offers based on niche to get traffic on its offer.
What is The Affiliate Network?
Affiliate network and publisher network is same. In affiliate marketing, a product or service is promoted by being shared on a blog, social networking site, podcast, webinar, Vlog or website to earns a small commission whenever someone makes a purchase or fill the form by personal information, through the unique affiliate link.
What is Advertise Network?
Advertising network or Ad Website servers an agreement in which both advertisers (those who buy traffic) and publishers (those who sell traffic) make business each other.
Difference between Advertiser and Publisher?
Advertiser is on the demand Traffic while the Publishers is on the supply Traffic. Advertiser Pay commission to publisher to promote (Get Traffic/Visitors) his product/service.
How to learn about types of Advertising?
Below can be few Types of Advertising method you can adopt it to promote affiliate offers.
Social Media Advertising (SMM)
Paid Search Advertising (PPC)
Search Engine Optimization (SEO)
Print Advertising.
E-Mail Advertising.
Broadcast Advertising (Vlog)
Mobile Advertising.
How does Affiliate Tracking system work?
A tracking solution is monitoring records the page views, clicks, user Ip, user browser id, user pc name and conversion information that affiliates send to traffic to affiliate url (link).
How many Ads format used in Affiliation Marketing?
Following ad format is here: Banner Ads, Email Ads, Push Ads, Popunder Ads, Popup Ads , In-Page Push Ads, Native Ads, Video Ads, On click Calendars Ads, Stream Ads, In-stream Ads, Out stream Ads, Interstitial Ads etc.
Who is AM (Affiliate manger) and its role?
An affiliate manager (AM) is CEO/Founder/Manger of Affiliate network who manages the affiliate publishers on behalf of an advertiser.
What is CPA, CPI, CPL, CPM, RTB, Direct linking, Reveshare offers?
CPA stands for, cost per acquisition or cost per action, Company pays if someone only Fill form or Submit with personal email, Publisher (Affiliate) earn money when submit only personal details.
CPL (Cost-Per-Lead) is a model in which the advertiser is charged a set amount for each lead that is produced.
Direct linking is a way that allows affiliates to link straight to a landing page without changes in the URL.
Revshare/ Revenue Sharing/ Percentage Commission is a model in which Advertisers to share a predetermined percentage of the cost of a product or service.
RTB (Real-Time Bidding) is the primary technology of ad campaigns in which an advertiser can purchase ad space to put their ads.
CPM (Cost Per Mile or Cost Per Thousand) is a marketing strategy used to describe the cost of 1,000 ad impressions on a single web page. For Example, If a website publisher charges 2$ CPM, an advertiser will have to pay 2$ for each 1,000 impressions.
Choose your niche/category
Before selecting Niche or category of your affiliating offer, you have to know about your website vertical contents or interest of your website/blog. It would be wise to create content, blog, website, landing page, newsletter that is relevant to the most popular CPA niches such as
weight Loss, Diet, Fitness, Mobile Apps, Dating, Education, Sweepstakes, Surveys, Loans, Games, Gambling, Financial, BTC Trading, business opportunities and more.

Always choose your target traffic (visitors) and niche (Category). Mostly affiliate networks do never allow you to use their "direct affiliate link" to promote offers, so you have to create your own landing page based on related niche.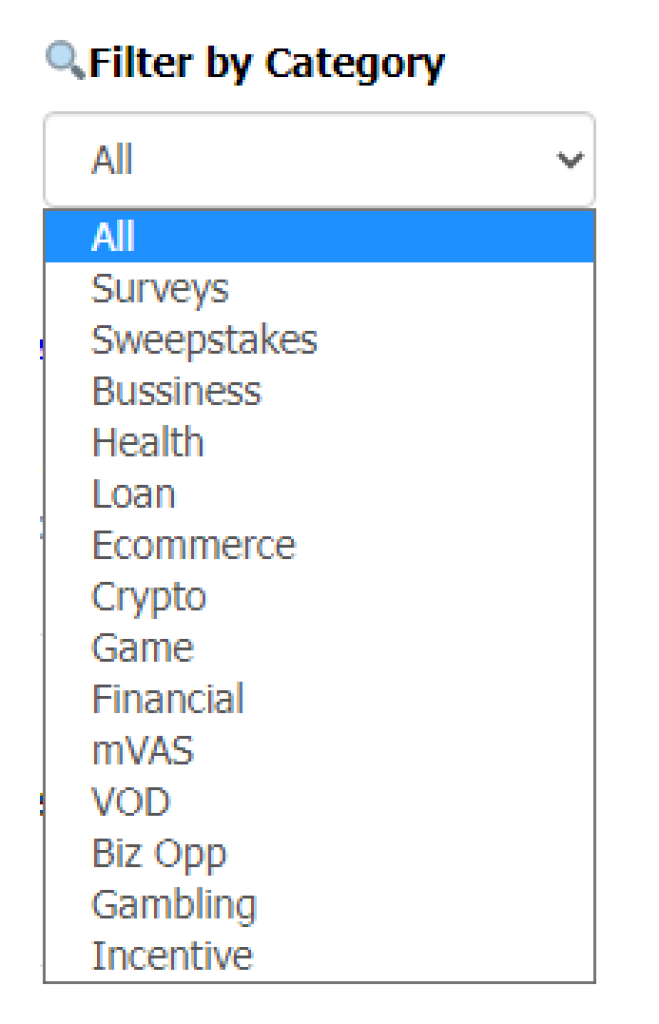 Chose Affiliate Marketing Platform
It's time to monetize from your relevant website, creative landing page or blog, once you are ready to get traffic to your website. You need to find relevant CPA or Affiliate networks with its programming.

The best CPA include: Visit our Affiliate Network directory and choose one of them who pays you higher Cost per action commission.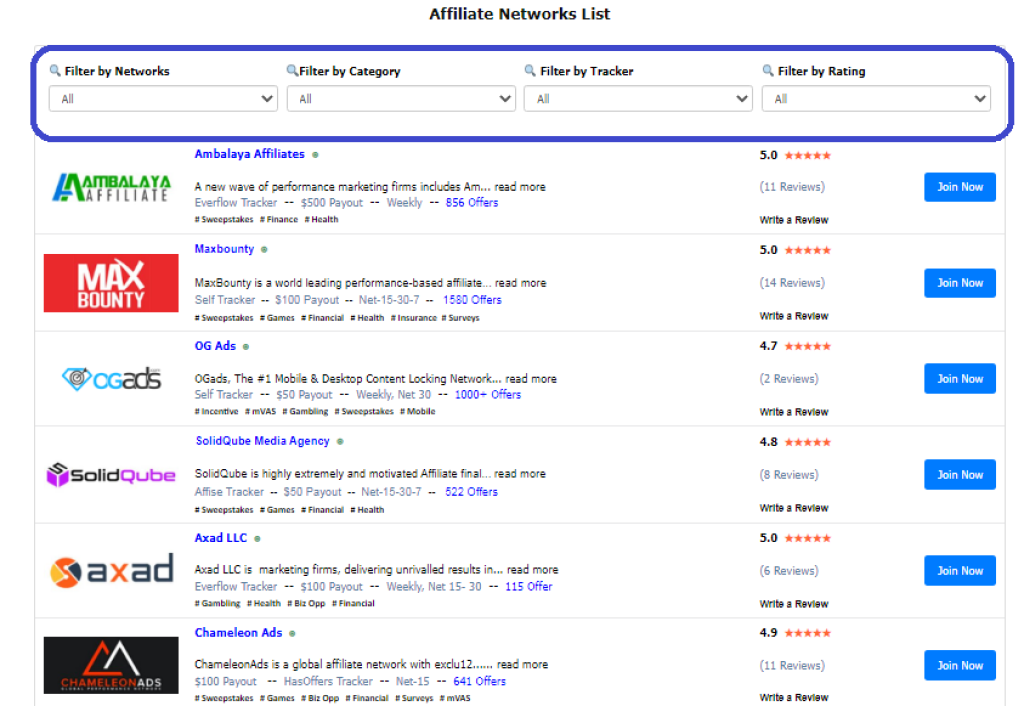 You need to find suitable and high paying CPA or Affiliate Networks and affiliate programs that have 5 Star Feedback.
Find High Paying Affiliate Offers To Join
Now! you have to chose related offers that is paying higher cost per action offer, If you are newbie in affiliation marketing, so i would recommend only work with CPA Leads, not Sales.
Visit our Affiliate Network Offers directory
and choose one of them best offers based on your niche.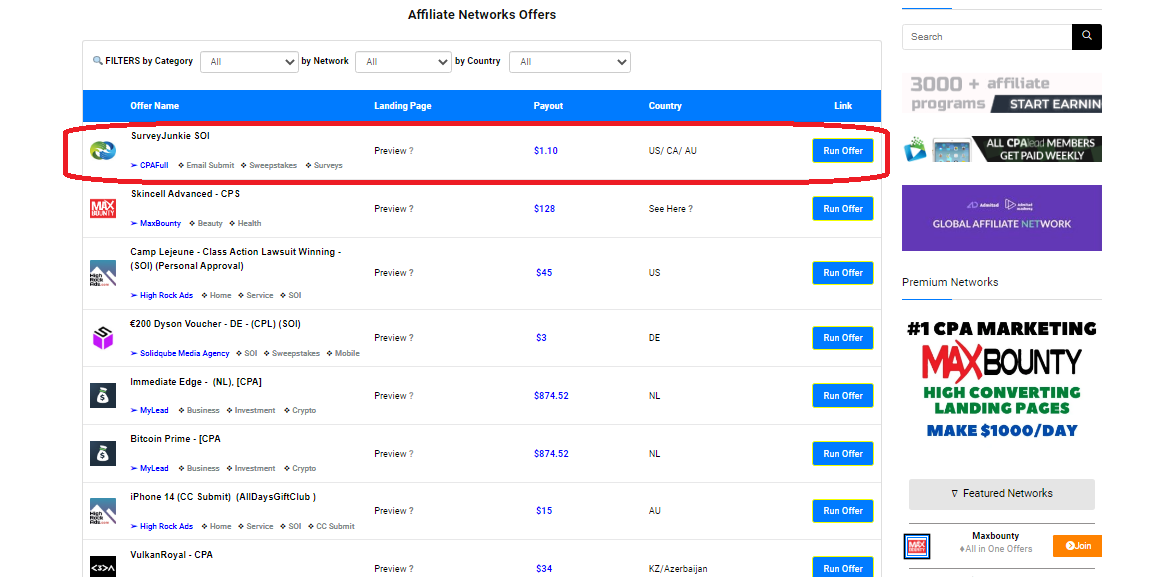 An affiliate manager who can assist you in getting started will be assigned to you. Ask them any questions about your CPA campaigns/offers without hesitation.
Your AM will be availed round of clock on Skype or Telegram to assist you in choosing best offer.
Create Niche And Relevant Publishing Content
You have to great publishing content to promote affiliate network's offers. In order to achieve significant results, niche content is written to have a strong emotional and specific audience with a particular target. If you have attend to promote via email marketing, and social media marketing, so you should create a useful and informatics landing page and put Affiliating networks offers links inside it.
KEEP IN MIND YOU ARE PUBLISHER, so Create a relevant landing page or blog.
When you sent first lead, your Affiliate manager will ask you how did you drive traffic on its link. DON'T BE CONFUSES, ANSWER THEM CORRECTLY, if you will not reply him, he may be suspend your account.
You may send traffic from Organic SEO, PPC (Google, Bing, Face book, Pinterest etc), Social Media Networks (FB, Twitter, Linkedin, Redit, Wikipieda etc) Email marketing, Video Marketing, Forum or Ad posting website etc.
Analyze and Optimize Earning
Learn How To Grow Your Sales or Leads to maximize your earning, you have to target relevant audience to promote offer. you have to maximize passive income by running paid and Free ads on Social media networks or Search engine optimization.
DON'T GIVE THEM FAKE LEADS AND FAKE TRAFFIC CAN CAUSE YOUR ACCOUNT SUSPENSION. BEST OF LUCK!